TRASH & RECYCLING SCHEDULE/INFORMATION:
Trash pick up is every Friday. Please note that when a holiday falls within the week, trash/recycling pickup will be picked up on Saturday. Holidays are: New Year's Day, Memorial Day, 4th of July, Labor Day, Thanksgiving Day, and Christmas Day. Holidays that fall on a Saturday or Sunday do not affect your trash pickup.
Collection of trash is limited to what will fit inside the 96 gallon Township-provided container. Please put your trash toters out Thursday night to ensure your trash is not missed during pickup.
Recycling collection is unlimited. Should your recycling not fit in your 96-gallon Township-provided container, you can use your own container clearly labeled as 'Recycling,' or place flattened cardboard that will not fit inside the recycling container next to your recycling container. Recycling pick up is every other Friday. For more information, call us at 610-384-2104 or email: This email address is being protected from spambots. You need JavaScript enabled to view it.. To view the recycling schedule, please click on the 2021 Trash and Recycling Schedule.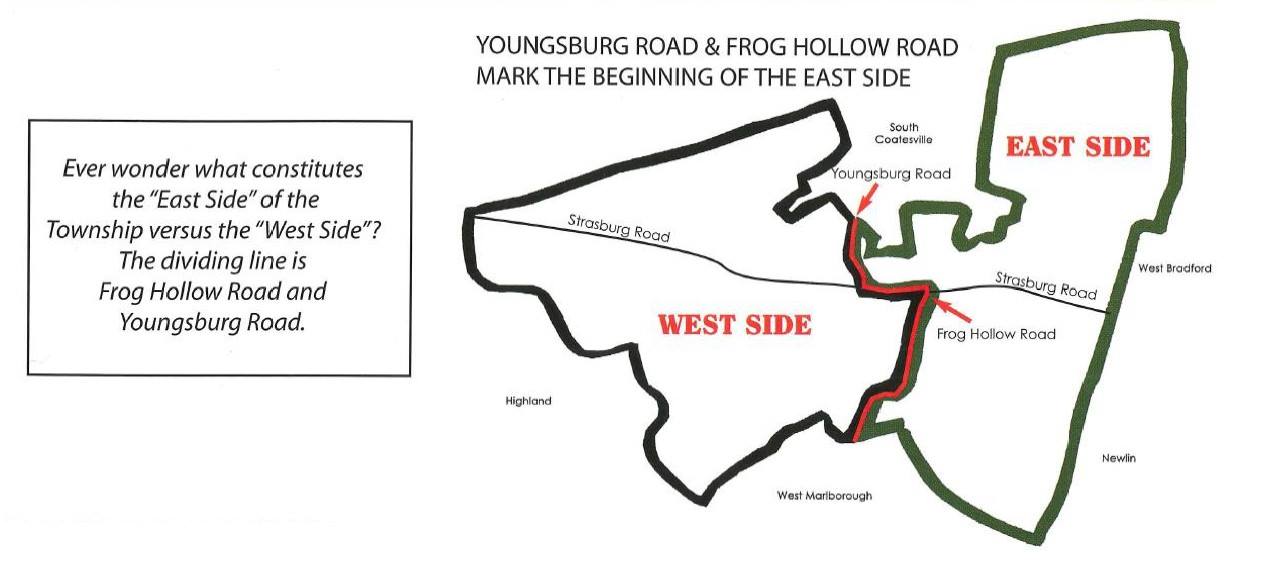 New resident packets are available. To request a new resident packet, please call: 610-384-2104 or contact us by email: This email address is being protected from spambots. You need JavaScript enabled to view it.
BULK TRASH PICKUP:
Bulk trash (including white goods) is collected on the first Friday of each month. Limit of two bulk items once a month for each collection day. No appointment is necessary.

Bulk waste and white goods (metal appliances) must be placed curbside the night before, or prior to 6:00 a.m. on the scheduled day of collection.  Appliances containing Freon must have a certified tag from a technician to document the Freon has been properly removed. No E-Waste, Construction Waste, Hazardous Waste, or Tires will be accepted.

Please note that Advanced Disposal requires that all mattresses and box springs placed out for bulk collection must be wrapped in plastic. This is in accordance with industry standards and is for the safety of hauler employees. Unwrapped mattresses are a hazard risk due to potential pests as well as the potential for excessive weight due to precipitation. Plastic mattress bags may be purchased at most hardware and home improvement stores.
ELECTRONICS ARE ACCEPTED FOR RECYCLING AT THE TOWNSHIP BUILDING
If you intend to replace a television, computer monitor, laptop or desktop computer, or a computer printer don't leave the old TV or machines at the curb and expect the trash hauler to take them away. They won't!
Pennsylvania's Covered Device Recycling Act forbids trash haulers from accepting electronic materials as trash, and requires that they be recycled.
Township residents can now drop off electronic items (Televisions, Computers Laptops and tablets, Monitors, Computer Keyboards, Computer Mice, and Printers) at the FREE recycling drop off center at the Township's Municipal Building-2264 Strasburg Road). The drop off site is open on weekdays from 8:00AM until 4:00PM, No appointments are necessary.
Anyone dropping off electronics MUST first stop at the Office and show a valid ID or a copy of a utility bill identifying that they are a resident of East Fallowfield Township. Electronics may NOT be left outside at the Municipal Building or collection site when the facility is closed.
The service is FREE for Township residents. For more information call 610-384-2104.
YARD WASTE COLLECTION:
Curbside Wood Chipping Service Curbside collection is done the first Monday of every month. Please note that there is no need to call us to schedule collection! However, your clippings MUST be at the curb by 6:00 a.m. on the collection date. If it is not out on time, collection crews will not go back to pick it up.
Limbs/branches shall be not more than six feet in length. No single piece shall be more than four inches in diameter. Tree and Shrub trimmings only; No Vines. Trimmings, which include vines, will not be picked up. All trimmings must be piled next to the curb or at the end of the driveway. Trimmings should be piled neatly with the cutoff ends pointed toward the curb.  Township equipment and employees will not come on private property to remove trimmings. This service is available free of charge for the first 15 minutes, however, the charge is $30 for each additional 15 minutes of work.
Curbside Seasonal Leaf Collection: Curbside collection service is only available each Monday during the middle of October through the middle of December. Yard waste MUST be at the curb by 6:00 a.m. on the collection day. If it is not out on time, collection crews will not go back to pick it up.  If you must dispose of clippings or leaves please containerize them (preferably paper bags). Plastic bags will not be taken. Collection service is free, but there is a limit of ten paper bags for each collection.
If you want to avoid raking, an environmentally friendly alternative is 'mower mulching' over your leaves, providing nutrients and natural fertilizer to your lawn.
Drop off Service: Residents can also drop off yard waste year-round at the East Fallowfield Township's Central Chester County Recycling Authority compost site, This service is available on the second Saturday of every month (second and fourth Saturday during the months of August and September)  from 8:00 a.m. - 2:00 p.m. 2240 Upper Gap Road, Coatesville (South Coatesville). This is a free service available to Township residents.
---
EAST FALLOWFIELD TOWNSHIP PUBLIC NOTICE
COMMERCIAL, INDUSTRIAL, INSTITUTIONAL, AND MUNICIPAL ESTABLISHMENTS AND COMMUNITY ACTIVITY RECYCLING
Any "commercial establishment" including any property, building and/or unit of a building used for commercial, institutional or industrial purposes, including, without limitation, a building that contains more than four individual dwelling units are required by law to recycle.
All commercial, industrial, institutional, and municipal establishments shall separate high-grade office paper, aluminum, corrugated paper, and leaf waste generated at such establishments and from community activities, store the materials until collection by a trash collector, and annually provide written documentation and certification to East Fallowfield Township of a total weight of materials and the types of materials recycled in the previous calendar year. Such persons may comply with the reporting requirements hereunder by requiring their trash collector to provide said documentation and certification directly to the Township.
"Community activity" are events sponsored by public or private agencies or individuals that include, but not limited to, fairs, bazaars, socials, picnics, carnivals, and organized sporting events attended by two hundred (200) or more individuals per day.